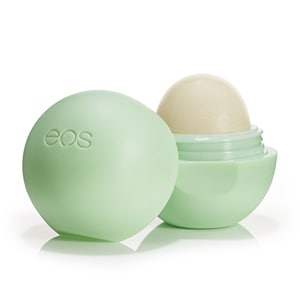 Eos Lips Balm
Eos Lip Balm is all the rage right now! So twist off the cap, pucker up, and treat your lips to the smooth sensation of Eos.
This lip balm is super cute and handy. The little twistable container is really good for making sure the lip balm doesn't escape and ruin everything in your purse.
However, despite the cute packaging and delicious flavors, the balm doesn't really do anything for my lips. It just makes them waxy and sticky. It might reduce dryness temporarily, but otherwise... no.
Also, just because something is organic, doesn't automatically make it awesome.
Feedback
✓

= Pro
✘

= Con
✘
Does not do much in healing chapped, dry lips.
✓
Comes in a cute spherical twist container in an assortment of different colors and flavors.
Rating? I'd rate this balm a 3 out of 5. Just 'cuz, well, the balm doesn't really help my lips hydrate... just saying.
Would I recommend this product to a friend?
Maybe... if they were opting for a cute little lip balm sphere more than the actual balm itself.